A Conversation About Art from an Artist Entitled…
Transformation of Thought
Artist. Sculptor. Curator. Teacher.
Viola Delgado — An imaginative artist, painter, and sculptor who is driven by an incredible passion for self-expression through art.
Viola Delgado's overall artistic experience includes participation in numerous visual art exhibitions, design and production.
As a studio artist, her work has been exhibited in Dallas/Ft. Worth metroplex and throughout the State of Texas, including a 30-year retrospective exhibit at the Dallas Latino Cultural Center. In addition, her work has been shown in New York City and internationally in Munich, Germany; Prague, Czech Republic and Torreón, Mexico.
Her public works can be observed at the DFW International Airport Terminal D, Gate 8, as well as the Lake June and Rowlett Dallas Area Rapid Transit (DART) Stations.  The Rowlett Station has the most art of any other station in the Dallas Area Rapid Transit system. Her sculpture, "The Garden," is currently displayed at the Dallas Latino Cultural Center.
Many of her works are in private collections in Texas, Colorado, Indiana, New York, Canada and Mexico.
Viola attended the Art League School in Alexandria, VA and Dallas Baptist University in Dallas, Texas with a major in psychology. She was born in Sinton, Texas and resides in Dallas, Texas.
Why No Human Faces?
The face expresses emotion and I like the viewer to associate themselves with the image with their own interpretation.
I don't paint the faces because it allows the viewer to relate more to the painting. They can imagine or be reminded of someone they know.
Inspiration...
My brain and thoughts are like a ticker tape, they run endlessly.
Most of my artwork is designed in my head first. I actually think of all that goes into the artwork, every line, color, movement, the whole design, so by the time I go to my surface it's 90% completed.
Why Women?
The women in my paintings represent different periods in my life, my ancestors, my dreams and women I have known.
The long skirts, braids and color are part of my Mexican heritage, but also tell the story of women who are respectful, solid, strong and unbroken. These women, much like my mother, created strong families built upon faith and love.
"I'm proud of most of my work because it takes so much out of me emotionally to create that it's a miracle that they get finished." — Viola Delgado
Driven by an
incredible passion for self-expression
through art.
2020 Hispanic 100 Latina Living Legend Recipient
2019 Miguel Hidalgo Award for Lifetime Achievement
2018 Ford Latina Legend Award
2014 Dallas Latina Artist Recognition, Latino Cultural Center
2013 Dallas/Ft. Worth International Airport Distinguished Artist Recognition
2010 Dallas Urban Design Award for the Lake June Dallas Area Rapid Transit Station
2008 DFW Airport Distinguished Artist Award
Ford Latina Legend Award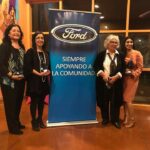 Publications/ Documentaries
2016 Cinco Latinas- videos of 5 Latina artists who exhibited in the Cinco Latinas: One Common Thread Exhibit
2015 Television Commercial – AT&T International Calling- Film and Ads
2014 Transformation of a Thought, documentary film
2014 Transformation of a Thought, published catalogue
2013 Fresh Groceries, documentary film
2019 DFW North Dallas Area Rapid Transit (DART). Design of the Grapevine Transit Station serving Grapevine, DFW International Airport and Irving.
2014-2015 Sculpture, The Garden. Dallas Latino Cultural Center, Dallas, Texas
2009 Dallas Area Rapid Transit (DART). Design of Rowlett Transit Station. Dallas, Texas.
2005-2006 Dallas Area Rapid Transit System (DART). Design of Lake June Transit Station. Dallas, Texas.
2005 Dallas/Fort Worth International Airport. Design of Terminal D glass mosaic medallion. D/FW International Airport, Texas.
2006 "Latino Cine" Mural. Blockbuster Corporate Offices. Dallas, TX.
Designed and painted over 10 indoor and outdoor murals for the Dallas Independent School District and Dallas Public Library.
2019 Dallas Morning News, These Women Were Told "NO" by Darryl Ratcliff.
2018 Dallas D-Magazine, Three Stops for your Dallas Airport Art Walks. DFW/International Airport Medallion, Terminal D Gate 8-10
2016 Dallas Observer, 10 must See Public Art Works in Dallas by Jeremy Hallock
2015 Viola Delgado Taps into the 'Ticker-Tape Machine' in Her Brain to Create Her Art by Jeremy Hallock, The Dallas Observer, April 29, 2015
2015 The Untold Stories: A Tribute to Dallas' Mexican American Veterans and Families, Latino Cultural Center. Dallas, Texas- international press coverage.
2014 Transformation of a Thought: Thirty Year Retrospective, The Senior Voice Newspaper, February issue
2010 Artist Viola Delgado Exhibits at Café San Miguel by Dianne Solis, Dallas Morning News, Dallas, Texas, June 6, 2010
Let's Talk!
We are always delighted to work with individuals and organizations to turn their ideas into art they can enjoy forever. Plus we have existing pieces for sale.